PP pump pipe joint connector
| | |
| --- | --- |
| Unit Price: | 1.2 USD |
| Min. Order: | 1 Piece/Pieces |

| | |
| --- | --- |
| Brand: | YWFluid |
| Place of Origin: | China |
| Port: | shanghai |
Product Description
Main Functions and Features:

1. The relative density is small, only 0.89-0.91, which is one of the lightest varieties in plastics.
2. Good mechanical properties. Except for impact resistance, other mechanical properties are better than polyethylene. Good forming performance.
3. With high heat resistance, the continuous use temperature can reach 110-120℃
4. Good chemical performance, almost no water absorption, and no reaction with most chemicals.
5. The texture is pure and non-toxic.
6. Good electrical insulation.
7. The transparency of polypropylene products is better than that of high-density polyethylene products.
Applicable to YW series peristaltic pumps, metering pumps, titration pumps, smart pumps and many other micro pumps
Pump tube

Product parameter
Type/model
1mm
2mm
3mm
4mm
Material
T-nomal connector
Apply 0.5-1mm ID tube

Apply 1.5-2.3mm ID tube

Apply 2.5-3.3mm ID tube

Apply 3.5-4.3mm ID tube

PP

Y-connector
L-Luer connector (Reducing connector)

Internal thread(white/black)

Outer thread(white/black)

Cap(white/black)


Y type connector (White)
Material introduction:
PP plastic is "polypropylene"
Polypropylene is a kind of thermoplastic resin made by polymerization of propylene. Usually a translucent colorless solid, odorless and non-toxic. Due to the regular structure and high crystallization, the melting point can be as high as 165°C. Steam sterilization of heat-resistant and corrosion-resistant products is its outstanding advantage. It has a low density and is the lightest general-purpose plastic.
Physical properties:
Polypropylene is a non-toxic, odorless, tasteless milky white highly crystalline polymer with a density of only 0.90-0.91g/cm3, which is currently one of the lightest varieties of all plastics. It is particularly stable to water, with a water absorption rate of only 0.01% and a molecular weight of about 80,000 to 150,000. The moldability is good, but because of the large shrinkage rate (1%~2.5%), thick-walled products are easy to dent. For some parts with high dimensional accuracy, it is difficult to meet the requirements of good surface gloss and easy coloring.
Mechanical properties Polypropylene has high crystallinity and regular structure, so it has excellent mechanical properties.
The absolute value of the mechanical properties of polypropylene is higher than that of polyethylene, but it is still low in plastic materials
Mechanical properties: Polypropylene has high crystallinity and regular structure, so it has excellent mechanical properties. The absolute value of the mechanical properties of polypropylene is higher than that of polyethylene, but it is still a low variety among plastic materials, and its tensile strength can only reach a level of 30MPa or higher. Polypropylene with a larger isotactic index has higher tensile strength, but as the isotactic index increases, the impact strength of the material decreases, but it does not change after it drops to a certain value. Temperature and loading rate have a great influence on the toughness of polypropylene. When the temperature is higher than the glass transition temperature, the impact damage is ductile fracture, and the brittle fracture is lower than the glass transition temperature, and the impact strength value is greatly reduced. Increasing the loading rate can increase the temperature of transition from ductile fracture to brittle fracture. Polypropylene has excellent resistance to bending fatigue, and its products can be bent 106 times at room temperature without damage. But at room temperature and low temperature, due to its high molecular structure regularity, the impact strength is poor. The outstanding performance of polypropylene is the resistance to bending fatigue, commonly known as the thermal performance of pleated rubber: polypropylene has good heat resistance The product can be disinfected and sterilized at a temperature above 100 degrees Celsius, and will not deform at 150 degrees Celsius without external force. The embrittlement temperature is -35 degrees Celsius, and embrittlement will occur below -35 degrees Celsius, and the cold resistance is not as good Polyethylene. The reported value for the glass transition temperature of polypropylene is 18qC, 0qC, 5℃, etc. This is also because people use different samples, which contain different ratios of crystalline phase to amorphous phase.
Caused by different chain lengths of the amorphous part of the molecular chain. The melting temperature of polypropylene is about 40-50% higher than that of polyethylene, which is about 164-170 degrees Celsius. The melting point of 100% isotactic polypropylene is 176 degrees Celsius. Chemical stability: The chemical stability of polypropylene is very good. In addition to being corroded by concentrated sulfuric acid and concentrated nitric acid, it is relatively stable to other chemical reagents, but low molecular weight aliphatic hydrocarbons, aromatic hydrocarbons and chlorinated hydrocarbons can make Polypropylene softens and swells, and its chemical stability increases with the increase of crystallinity. Therefore, polypropylene is suitable for making various chemical pipelines and fittings, and has a good anti-corrosion effect. Electrical properties: It has a high dielectric coefficient and can be used to make heated electrical insulation products as the temperature rises. Its breakdown voltage is also very high, suitable for use as electrical accessories. Good resistance to voltage and arc, but high static electricity, easy to aging in contact with copper. Features: non-toxic, odorless, low density, strength, stiffness, hardness and heat resistance are better than low-pressure polyethylene, can be used at about 100 degrees Celsius. It has good electrical properties and high-frequency insulation and is not affected by humidity, but it becomes brittle at low temperatures, not wear-resistant, and easy to age. It is suitable for making general mechanical parts, corrosion-resistant parts and insulating parts. Common organic solvents such as acids and alkalis have little effect on it and can be used for Tools. Polypropylene has many excellent characteristics:

Product Photos: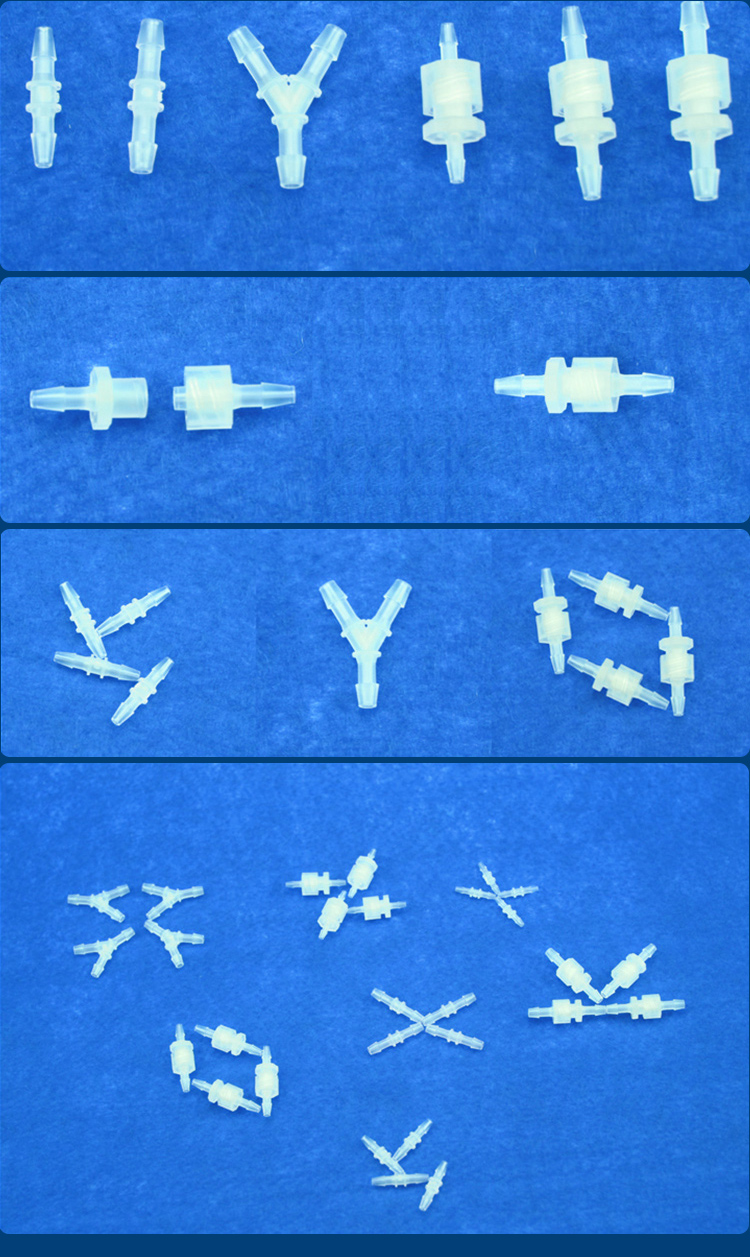 Changzhou Yuanwang Fluid Technology Co., Ltd.
Changzhou Yuanwang Fluid Technology Co., Ltd. is located in Changzhou City, Jiangsu Province, with convenient transportation and comfortable environment. It takes 1 hour by high-speed rail from Shanghai to Changzhou. There are more than 50 Seiko, including professional developers, careful production and strict quality control personnel. Our sales team is always online to meet customer needs.

Our main products are micro pumps, pump control systems, micro peristaltic pumps, micro diaphragm pumps, pipe fittings and accessories, etc. All products can be customized according to your special requirements. Our products are widely used in medical machinery, laboratory equipment, water treatment, printing, automotive products, etc.

Our rigorous attitude towards product quality and the spirit of pursuing the latest technology enable you to gain a higher position in success.

Company Name: Changzhou Yuanwang Fluid Technology Co., Ltd.
Representative: Minfang Chen
Product/Service: Vacuum pump , Diaphragm pump , Peristaltic pump , Mini Pump , Micro pump , Water Pump
Capital (Million US $): 2000000RMB
Year Established: 2012
Total Annual Sales Volume (Million US $): US$5 Million - US$10 Million
Export Percentage: 31% - 40%
Total Annual Purchase Volume (Million US $): US$1 Million - US$2.5 Million
No. of Production Lines: 2
No. of R&D Staff: 5 -10 People
No. of QC Staff: 5 -10 People
OEM Services Provided: yes
Factory Size (Sq.meters): Below 1,000 square meters
Factory Location: 6 Tongshun Road,Henglin Town,Wujin,Changzhou City,Jiangsu
Contact Person: Mr. Henry Shi
Tel: 86--13361898700